Springtime may bring flowers, but it also the time of year when most graduations occur. With this noted, you may have a person in your own life who may soon be graduating. If that is the case, likely find yourself in the market for an ideal graduation gift.
In this day and age, oftentimes when it comes to graduation gift giving, people spend their time looking for the perfect electronic device. When all is said and done, even in this high tech age, there are some non-electronic items that are perfectly suited as gifts for a graduation. There are five non-electronic gift ideas that are well suited to the high school or college graduate.
Silver Frame for Diploma
An ideal gift for the graduate is a silver diploma frame. A silver diploma frame is well suited to recognize the value of the diploma and the accomplishment of graduating.
In addition to being the perfect frame to protect a diploma, it also is a stunning, elegant way to present a diploma as well. A silver diploma frame will be something that literally can last a lifetime, and even beyond.
In the alternative, a silver frame makes an ideal gift when it is intended to be used with a person's graduation photo. In the alternative, a silver frame can be used to encase a photo of the graduate and his or her closet friends.
Trip to a Unique and Memorable Destination
Another of the top five non-electronic gifts for graduation is to give your loved one a special trip to a unique, memorable destination. You can plan such a trip in a number of ways.
First, you can arrange such a trip as a surprise for a special person in celebration of his or her graduation. By presenting the surprise trip at the time of the graduation, you make what is already a truly special day in a loved one's life even more exciting.
Second, if finances permit, you can arrange for a special graduation trip for a loved one and a close friend. There are less expensive travel destinations that are popular and enjoyable. These can be ideal choices for a trip for your loved one and one of his or her friends.
Third, you can make the trip a family affair. This particularly is suitable on the occasion of a high school graduation. This gives the family a chance to celebrate the accomplishment of one of its own. It also provides a solid opportunity for a family to spend time together before the graduate moves onto the next phase of life.
Finally, you can announce the gift of a trip, with part of the present is extending to the graduate the ability to select his or her destination. Odds are the graduate has a travel destination that is on his or her bucket list.
Commemorative Silver Bowel
Silver items time and again are proven to be ideal choices when a special event or occasion is to be celebrated. An idea for a graduation is a commemorative silver bowel. You can have the silver bowel personalized, which adds a bit more to the gift. In the end, a commemorative silver bowel truly will be a gift that a graduate will treasure for the rest of his or her life.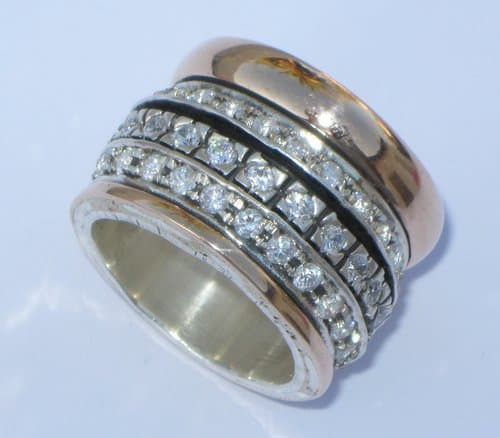 Customized Silver Ring
When it comes to customized silver gifts, a ring made of sterling can be an ideal graduation gift. Of course, class rings oftentimes are sold in advance of a graduation, usually from a class ring vendor. However, by picking out and customizing a silver ring for your loved one, you are giving something that will have more meaning and depth than the mass produced class ring that will be worn by others in the class.
Of course, the graduate can also get the standard class ring as well. Having both types of rings allows a person to have a pair of items that will forever commemorate an important time in that individual's life.
Personalized Leather Portfolio
When searching for an ideal non-electronic gift for graduation, consider a personalized leather portfolio. There is an array of leather portfolios that make perfect gifts on the occasion of commencement.
There at leather portfolios that have a traditional design. These are classy and timeless and represent the type of gift that a person can use for years to come.
There at also leather portfolios that sport a more modern design. These bright designs are both eye catching and of a nature that will endure into the future, quite like their traditional counterparts.
====
Jessica Kane is a writer for Silver Superstore, home of the internet's best flatware.