New York is perfectly busy in the daytime, but it's at nighttime that the city really glows up. They don't call it "The City That Never Sleeps" for nothing; while other urban enclaves may be winding down, much of NYC is still awake. This is great news for night owls and nighttime revelers who are just getting into the mood to party.
There's a variety of things to do in NYC when the sun goes down. Here are 6 picks that are good for either early evening jaunts or late-late night adventures!
Early Evening Cocktails at the Tudor City Marketplace and Tavern
9:00PM may be bedtime for some, but for others, it's an ideal time to knock back an appetizer and some pre-party drinks. To do just that, head to the Westgate Hotel, near Grand Central Station, for a bite to eat. Get buzzed on either the Starbucks coffee that Tudor City sells, or down a glass of wine. Don't hesitate to buy something from the Marketplace's grab-and-go menu before you go prowling. Visit https://www.westgateresorts.com/hotels/new-york/midtown-manhattan/westgate-new-york-grand-central/ to get a good idea of Tudor City's menu and to learn about the plush Westgate NYC Grand Central Hotel, its home base.
A Nighttime Boat Ride on the Staten Island Ferry
The 25-minute boat ride, via the New York Harbor, is completely free. It's your chance to see the city lights between the boroughs of Manhattan and Staten Island shine their brightest against the starkness of the evening. This option for a nighttime outing is romantic, peaceful, and—best of all—accessible until 11:00PM, or the time of the last trip.
Target First Saturdays at the Brooklyn Museum
If you're in NYC for the first Saturday of the month, make sure to attend one of these events at the Brooklyn Museum. All Target First Saturdays involve activities tied to the Brooklyn Museum's current exhibits, and so far, they've been effective in drumming up public interest. There are talks, movie screenings, and live entertainment that you can jam to on a Saturday night. Certain events in the Target First Saturday schedules require paid tickets, but many of the other activities are free!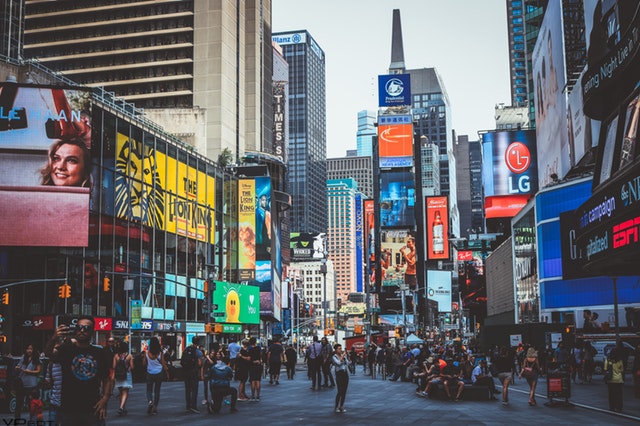 An Evening on Broadway
There's still a singular magic to attending a show on the world's most famous theater strip. This is where you can watch premieres and continuing productions of top musicals. Nothing beats going to the theater and spending the evening immersed in a performance. Look up the schedules across Broadway's 41 professional theaters and book tickets for the show you're most interested in.
An All-Out Rave at the House of Yes
The iconic House of Yes is a nightclub where you can go for adult and avant-garde entertainment that embodies the spirit of NYC. It advocates optimum and no-holds-barred expression and creativity, which makes it a safe place to let loose at night. Read up on the House of Yes's exclusive themed events, performances, and variety shows on their site. Choose which one of these you'd like to indulge in on your night out.
Midnight Run to the Empire State Building
The Empire State Building is one of the most prominent symbols of New York, so it's a given that it's saturated with tourist activity during peak hours. But the experience of viewing NYC from above could be 10 times more enjoyable at night. The last trips to the 82nd and 102nd floor are at 1:15AM. You'll be fairly undisturbed there when you survey New York City, within a radius of 80 miles, in all its urban glory.
These are just some of the things that you can do in NYC past sundown, all of which are proof of the city's sleepless reputation. Which of these activities are you willing to stay up late for?