There's nothing quite like hiking in the fall when the weather is warm enough, yet with colder breezes and the leaves are colored in a multitude of interesting patterns. Even the wildlife seems different now, with more interesting birds and animals, and less pesky insects. So if you want to make the most of your trip, here are some wonderful hiking destinations to try this fall.
Canaan Valley, West Virginia
This is a scenic destination that will fill you with awe, particularly because of the wonderful color pallet. The leaves change early in Canaan Valley, and its widespread wetlands look even more enticing now. The Blackwater River is definitely a sight to admire no matter the season, with its rapid, whirling course that meets a proper ending at the Blackwater Falls.
The weather is cooler now, and the already lower temperature and colder wind in the waterfall region will definitely give you goose bumps. So it's a good idea to pack a warm fleece jacket and the best backpacking boots for this trail, particularly since the temperatures oscillate drastically and can even drop below freezing.
Being a National Natural Landmark for the past four decades, Canaan Valley has a lot to offer in terms landscape and wildlife. Surrounded by the Allegheny, Canaan and Cabin Mountains, this valley was carved by the thawing of glaciers thousands of years ago, so it's impressive through its size. The Blackwater Canyon is another amazing landform you can admire here, with sedimentary rocks and sandstones that comprise abrupt ridges and sharp rims.
Te Araroa Trail, New Zealand
The variety of the landscape is something that New Zealand is renowned for, but this trails definitely has it all. You will walk through an arid sand near the coast, but you will also encounter alpine, abrupt ridges on the way. The more tropical, jungle vegetation gives way to plentiful farmlands where sheep are seen grazing happily. And to end up this magnificent diversity, the volcanic landscape is king creating a lunar surrounding.
Of course, considering the total length of the Te Araroa trail which is in the ballpark of 2000 miles, this becomes a thru-hike for the more advanced travelers. You can always choose to explore just a smaller portion of this trail, though, but the best season to do it is from mid-autumn to early spring. There are over 150 tracks to choose from, each providing an unforgettable view and a rich Maori experience.
And even if you'll just hike on the first track that starts in the North Island, at the confluence of the Tasman Sea and the Pacific, you'll still have a difficult enough hike. The sand is pretty rough, and the weather is pretty chilly, mostly overcast and with strong winds. Following this, the forests that follow are filled with abrupt cliffs, mud, and congested paths. But if you continue your journey, you'll see all the amazing landforms we promised.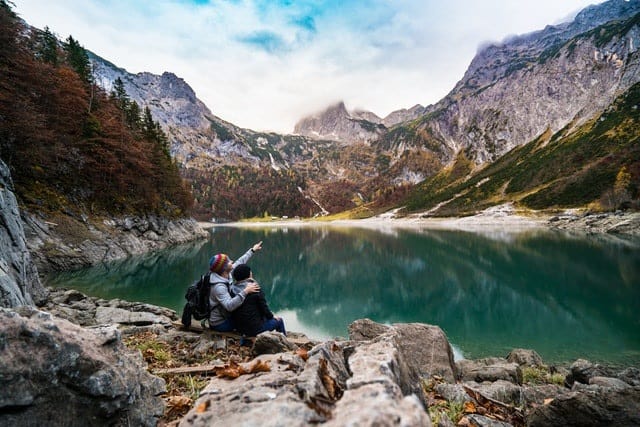 Mont Blanc, Italy, France, Switzerland
This 100 miles route is great if you're passionate about alpine scenery and want to spend as much time as possible breathing it in. Not to mention you'll cross three different countries on this trail that goes around the Mont Blanc, admiring its abrupt slopes and magnificent peaks.
With a spectacular scenery at every step, you'll be able to complete this trail in about 10 days so it's the perfect choice for an autumn vacation. The well-marked trail is great for the autumn weather and you'll cross plenty of bucolic villages with friendly locals.
The trail itself is pretty easy to navigate, making it more of a walk than an actual hike that requires technical climbing skills. While you will be tackling alpine ridges, you won't be needing any fancy equipment. Just learn how to make a walking stick in advance and you'll be fine as you'll get to wander through vividly colored forests, and crystal clear alpine lakes in a secluded, tranquil location. The mountain slopes are heart-throbbing too.
Long Range Traverse, Newfoundland, Canada
Located in the Long Range Mountains, you'll see the amazing St Lawrence Gulf, admire the imposing cliffs and the Western Brook Pond Fjord. You'll ultimately get to the Gros Morne Mountain that's a very high massif. This 25 miles trek is pretty difficult though, considering the trails aren't well marked and you'll need some good survival skills to find your way.
So it's better to engage on this trail in the first part of the fall for that reason, but also because the sceneries are much more impressive now. The hidden wilderness is enticing with plenty of wildlife including the majestic moose and the joyful caribous.
You'll encounter a delightful landscape with abrupt granite cliffs, narrow pathways, coastal fjords and secluded lakes. There are five pristine campsites along the way to divide your trek more easily, and you'll enjoy their magnificent setting at the heart of welcoming spruce groves.
The 2600-foot Gros Morne giant is your last destination. You'll climb this peak in your last day when you'll have a clear viewpoint of the St. Lawrence Gulf and marvel at how far you've come.
And even if this whole journey is a wonderful feat in itself, you can actually make it even longer if you combine the Long Range Traverse with the Northern Traverse. You'll add an additional 3 nights and 17 miles to the journey, tackling rugged gorges and reaching the Long Range plateau in the end.
Where will you go?
With so many enticing destinations and wonderful journeys, you can pick your poison. Whether it's a long journey that lasts for a few months on a diverse terrain, more gentle climbs or discovering undisrupted territories with no marked trails, the choice is ultimately yours. And after you've made it, drop us a line and tell us what that is. What other amazing hiking trips would you recommend other readers for this fall? The comments await below.