Sidewalk blocks, also known as concrete pavers or sidewalk slabs, are becoming very popular. Whether you're building a new sidewalk, replacing a damaged sidewalk, or even creating a garden path or a walkway for a landscaping job, sidewalk blocks are a great choice.
Sidewalk blocks are pre-cast concrete slabs, which means they can be installed quickly and have a variety of benefits compared to traditional concrete sidewalks, and other paving materials such as flagstones.
In this article, we'll take a look at some of the benefits you can enjoy if you use sidewalk blocks in your next project. Let's get started.
Faster Project Completion Time
Concrete usually takes between 24-72 hours to cure, depending on the weather, humidity, and a number of other factors. This is quite a long time – and there is always a chance that a person or animal will walk over the concrete while it's still soft, or debris and detritus may fall onto it.
If this happens, the concrete can be ruined or damaged irreversibly. Sidewalk blocks are pre-cured, so you don't have to worry about any kind of curing time. As soon as your blocks are installed and the joining compound is dry, they can be walked on – leading to a faster overall project completion time.
No Concrete Pouring Required
Concrete pouring isn't easy. Pouring concrete slabs may even require you to hire a third-party contractor who is a specialist, to ensure the best results. This can cut into your profits.
Because no concrete pouring is required, sidewalk slabs are cheaper and easier to use. Just about any handyman or landscaping professional can handle the installation of a sidewalk slab – no special concrete expertise is necessary.
Durable, Strong, And Long Lasting
Concrete slabs are strong and durable, especially compared to other walkway materials like brickwork, tile, and flagstones. Concrete slabs offer a lifespan of 30+ years, and can hold up to heavy foot traffic without moving, or becoming damaged.
Concrete is also easy to wash with a pressure washer. It's durable and can hold up to the 3,500+ PSI pressures, unlike some materials like natural stone or tile which could be damaged during the cleaning process.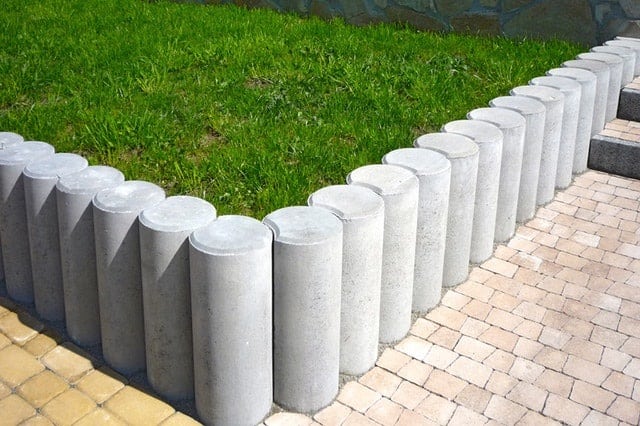 Easy To Repair And Replace Damaged Blocks
Removing and replacing a damaged poured concrete slab is nearly impossible. Typically, you must use a jackhammer or other heavy machinery to destroy the slab and remove it.
This is not the case with a sidewalk block. Sidewalk blocks can be removed simply by removing the joiner material that attaches each individual block, and lifting them out with a specialized tool. Individual blocks can quickly be removed and repaired in this way – making sidewalk blocks a great long-term investment.
Enormous Variety Of Shapes And Styles
Sidewalk blocks are pre-cast in a huge variety of shapes and styles. Square, rectangular, oval, and round blocks are available. Whether you are looking for large, square slabs that look like traditional sidewalk blocks, or smaller pre-cast concrete pavers, you will have plenty of options.
Sidewalk blocks are also finished in different colors and textures, and can imitate the appearance of other materials like natural stone, flagstone, brickwork, and slate. By choosing a sidewalk block, you can get a huge variety of different colors and styles – with the same quality and durability of a traditional concrete sidewalk.
Enjoy These Benefits – Use Sidewalk Blocks In Your Next Project!
Whether you're replacing a traditional concrete sidewalk, or looking for the right material to use for a landscaping or hardscaping job, sidewalk blocks are a great choice.
These pre-cast concrete slabs provide a number of great advantages – and since they're easy to install, you'll be able to avoid hiring a third-party concrete pouring expert, which saves you time and money.