Brisbane, along with the rest of Australia is a highly desirable and often underrated travel destination. People often don't think as much as they should about this excellent little corner of the world. Brisbane offers a lot to the casual tourist or business traveller that will make their stay a pleasant one full of great memories. You will find a great place to stay in Brisbane and enjoy the amazing restaurant and nightlife scene, warm climate and all the activities available here.
Fun in The Sun:
First off, if you like beaches, you'll be very pleasantly surprised. Brisbane is home to Australia's only urban beach and unlike other urban destinations with beaches, the sand at Street Beach Brisbane is clean and the water is beautiful and clear.
But that's not all. From the suburbs, to the various islands just off of Brisbane, to the Gold Coast and Sunshine Coast, there are so many options here it can actually make your head hurt! Australia is one part of the world that definitely got spoiled for options when it comes to world-class beaches. Be sure to experience as many different beach options as possible and enjoy your fun in the sun.
For clarity's sake, I've made a quick list of some of the many incredible Brisbane beaches to help you out:
Sylvan Beach, Bribie Island – just north of Brisbane and reachable by a bridge. This beach is on the bridge side and exposed to the channel as opposed to being exposed to the ocean, so it's waters are generally very calm.
Bongaree Beach, Bribie Island – also on the bridge/channel side. This is the most family-oriented beach on the island and has the most facilities.
Ocean Beach on Bribie Island – This is where the surfers will want to head if they are visiting Bribie Island for a wave.
Cylinder Beach, North Stradbroke Island – This is another family-oriented beach and good for people learning to surf, with calm, smaller waves.
Main Beach, North Stradbroke Island – This beach is good for strong swimmers or surfers who want a bit more of a challenge than Cylinder.
Frenchman's Beach, North Stradbroke Island – This one is for more serious surfers as the waves here can get a lot bigger then the waves of the other islands.
Surfside, Moreton Island – Very much similar to Frenchman's Beach, perhaps even more challenging due to the rips its famous for.
Bulwer, Moreton Island – This incredible beach is on the western shore of the island and is known for its calm waters and excellent snorkeling.
Tagalooga Beach, Moreton Island – This island is famous for its eight shipwrecks just offshore and for the dolphins that come at sunset each day.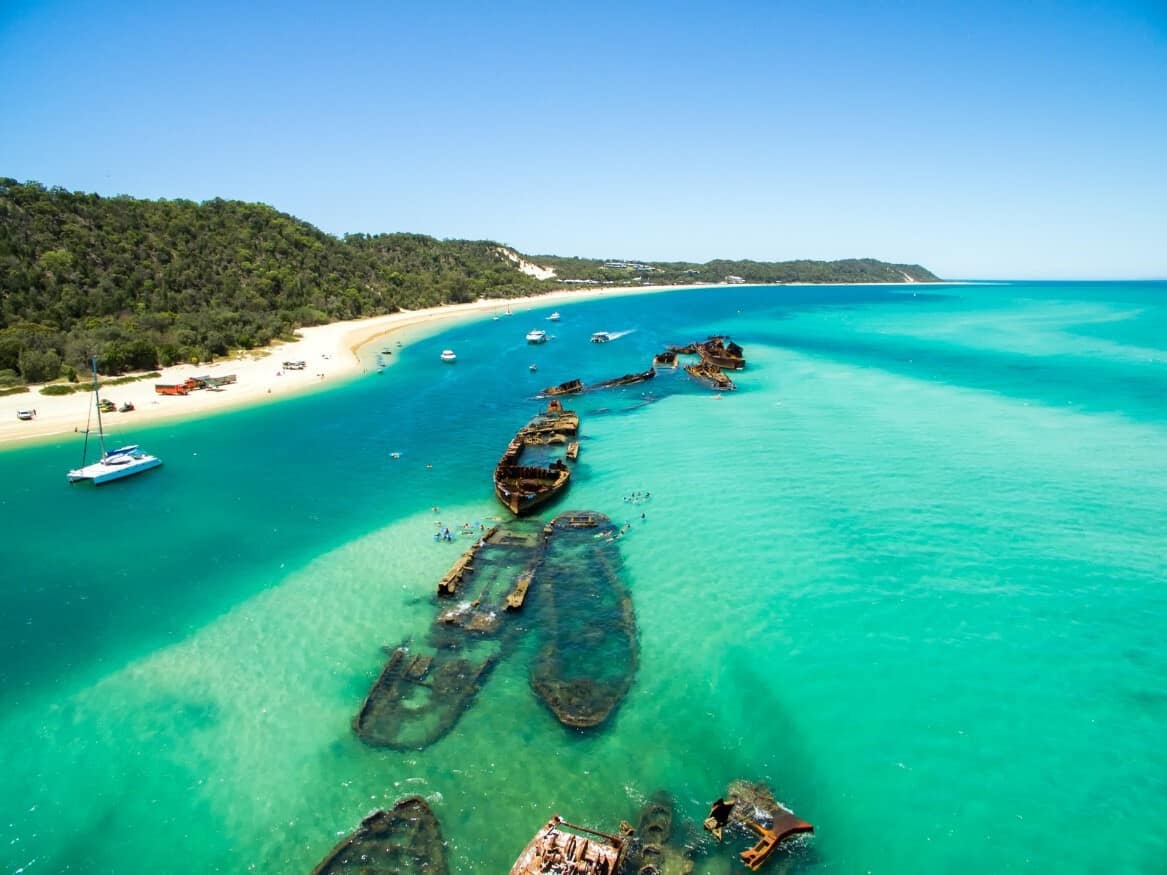 Hot Spots in Town:
Brisbane's fully developed culinary scene is conveniently mostly centered around the CBD (that's central business district in case you didn't already know). You can find seafood that is absolutely to die for, as well as ultra-traditional steakhouses, pub grub, bar and grill fare, and of course, a plethora of international options, naturally focusing mostly on Eastern Asia due to the proximity factor. Many of China and Japan's top chefs have chosen to make Brisbane their home, to the delight of all of us foodies.
The excellent availability of fresh seafood and the proximity to East Asia mean that without a doubt this is a real big sushi town, so make sure you grab some sushi as part of your dining experiences if you are at all into that sort of food. If you think you've had good sushi anywhere in the Americas, you may indeed be in for a real pleasant surprise. Definitely bring your appetite to Brisbane!
Getting Around Brisbane: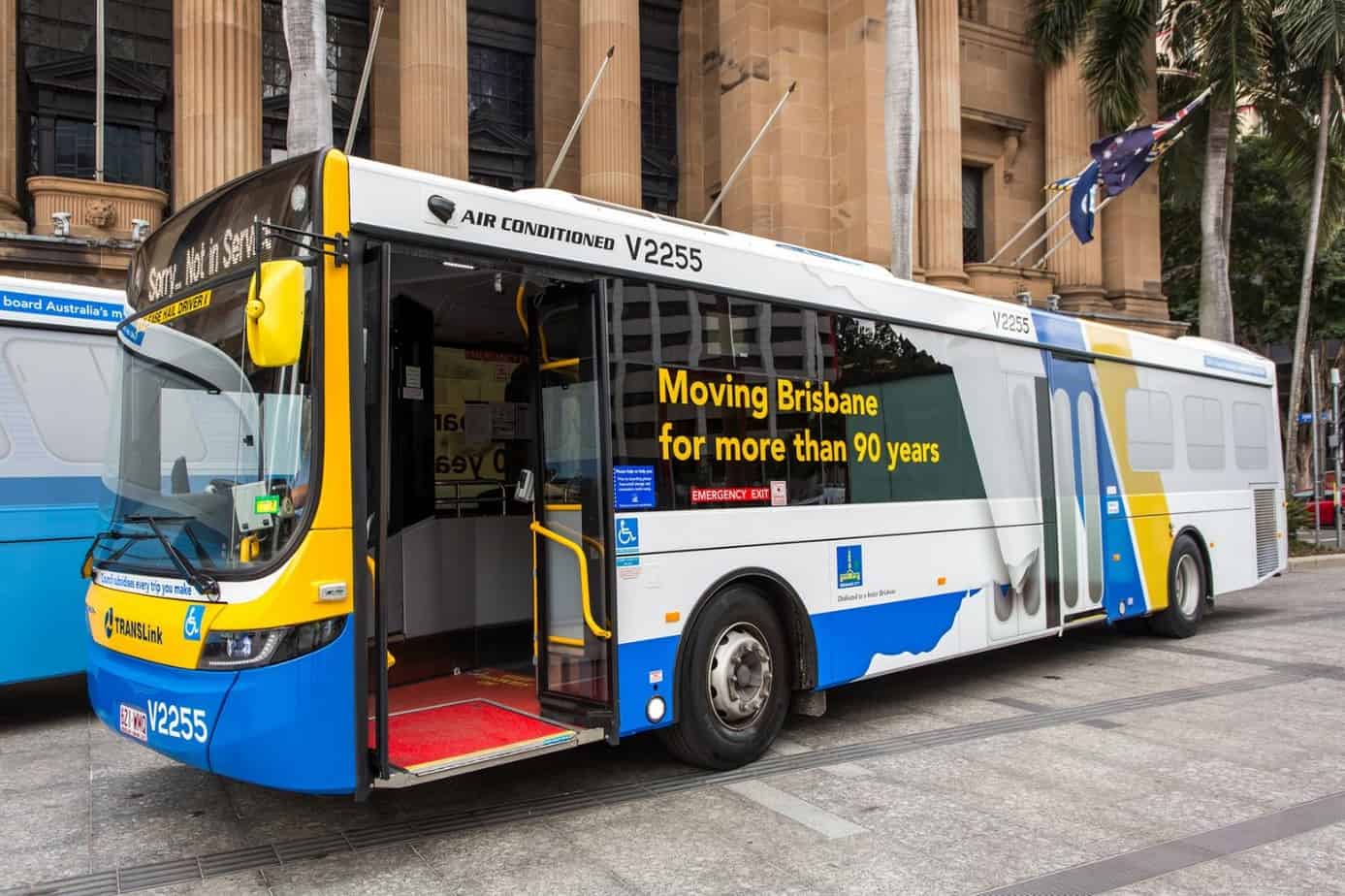 For the adventurous, Brisbane boasts of an excellent transportation system integrating buses, trains, and ferries. Brisbane's public transportation system is excellent, clean, safe, and efficient, and by Australian standard's it's very cheap. The maximum fare runs around $4.80 in Australian dollars, which is not bad at all.
Speaking of which, the public transportation system here does charge by distance, which can be confusing for people who are from places such as NYC where they charge the same fare no matter how far you are going. This is a bit of a double-edged sword, but it can be a boon for tourists who just want to stay in central areas and will take a bunch of short trips. If you are planning on taking lots of those trips, get a transit card, as it gives you a pretty big discount.
There is an express train to and from the airport as well. It runs from 5:45am till 10:00pm daily every 15 minutes. This is a great option for those who will be staying in the CBD or on the Gold Coast, as it takes you right to the heart of things. Total travel time to the Gold Coast is 90 minutes, to the CBD is a mere 23 minutes with a cost of $18, which is a substantial saving from taking a taxi to be sure, and very handy for those of you who manage to travel lightly.
There are also taxis and even water taxis easily available 24 hours a day, there is literally no danger of getting stranded anywhere near Brisbane. As well, Uber has a strong presence here which is understandably a big boon to any traveller. Uber rates for UberX are $1 per km and $.35 per minute, with a minimum of $7.50, which is reasonable and, while obviously more expensive than public transportation, still much cheaper than a taxi.
If the destination of Brisbane has been on your mind, I hope that this short little guide makes your decision easier. We sincerely hope you thoroughly enjoy your time in Brisbane, and may the pleasant memories draw you back again and again.