The way you dress affects how people judge you, but more than that, it influences how you think of yourself. If you want to take control of your image and gain confidence, the quickest way to do that is to upgrade your style.
For the working professional, the way you look is part and parcel of achieving success at work. For one, people gravitate toward those who have a neat appearance. Well-dressed individuals command more respect and create better impressions. And since the way you dress affects your self-image, dressing for the job you want can actually shape your mindset and habits to become more suitable for the position you desire.
To change how you look at yourself, start with upgrading how you dress at work.
Dress Shirts
By now, you should know that dress shirts are staples in every guy's closet. They're simple yet stylish and easy to mix and match. They also look good on most body types, as long as you get the fit right. Dress shirts can be worn as business, casual, or formal attire.
There are a few things you need to take note of to get the perfect dress shirt. First, you should get the fit right. It's not enough to know whether your size is small, medium, or large. Different brands can have different measurements so it's important to know your sizes.
You should also take into account the materials that's used for the dress shirt. There are several dress shirt fabrics to choose from. For casual wear, opt for oxford and poplin shirts. Need something more dressy? Go for twill or broadcloth fabrics.
Dress Pants
As with dress pants, fit and fabric are your two main concerns when choosing the right one. Again, you should know your measurements. It can be difficult to find pants that match your exact size. When this happens, you best option is to get it tailored. The same goes for your dress shirts. Tailored clothes follow your exact fit, so they look sharper and are infinitely more flattering.
Choosing the fabric of your pants depends on the occasion you're dressing up for. Worsted wool is used in many business suits, and it's ideal for looking dressy and down for business. On the other hand, cotton twill pants are more suitable for casual attires.
Dress Shoes
The shoes you choose can tell a lot about you. Upgrade your wardrobe and your image with a different pair of shoes. Set aside your sneakers, and get yourself a pair of dress shoes (or two).
There many styles of dress shoes to choose from, enough to be overwhelming. You don't have buy a pair for each style (for now). What you need is a go-to dress shirt that will look good in different attires. The black plain-toe oxfords are the usual choice for most occasions.
Your shoes have to complement your suit. Black, brown, and burgundy shoes are compatible with navy blue and light- or medium-gray suits. For black suits, stick to black shoes, and avoid brown pairs. Brown suits should be paired with brown or burgundy shoes. A pair of black or burgundy shoes will look great with a charcoal-gray suit.
Suit Jacket
Want to look more professional and put together? A well-tailored suit jacket is just what you need. It can instantly make a T-shirt and pants ensemble look dressier. Wear a suit jacket with your dress shirt, dress pants, and oxford shoes, and you'll look sharper and smarter.
In more casual settings, your suit jacket and pants don't have to match. You're good to go as long as you select a color that complements your whole attire. When all else fails, opt for a dark- or neutral-colored jacket since that's easier to match with other colors.
For formal occasions, matching the suit jacket with the dress pants is a basic. It gives off a more professional and dignified vibe.
Ties
The perfect tie completes the whole ensemble. It can create a lasting impression when you're meeting people for the first time. However, finding the right tie can be tricky. Fortunately, there are guidelines for this occasion.
The first thing you need to consider is the fabric. Silk, wool, and cashmere ties are the ideal choices. Next, you have to consider the size. The perfect tie should sit comfortably above your belt buckle, not past your waist. It shouldn't be too wide, just about 3.5 to 3.75 inches wide.
As for choosing the design, color, and texture, those must compliment your attire. That means no gaudy patterns, like bright polka dots, stars, or cartoon characters, for formal wear.
Satchel
Before Friends popularized the idea of man bags in 1999 (in the episode "The One with Joey's Bag"), renaissance men had been using girdle pouches, a small bag tied to their belt, to store all their stuff. It was the thing before pockets became in and before men began to equate bringing bags with being feminine.
Fortunately, the contemporary man is rapidly getting over that mindset, which is evident by the increased popularity of accessories for men, especially bags.
Bags are great accessories. One can go so far as to say that they're a necessity. With a bag, you can secure your belongings (e.g., expensive gadgets and wallet) and pack other stuff that you may need (e.g., emergency kit, planner, important documents, etc.).
For the busy office man, a satchel is perfect to complement your business suit, give you freedom to use both hands on the go, and hold the items you need for the busy workday.
Watch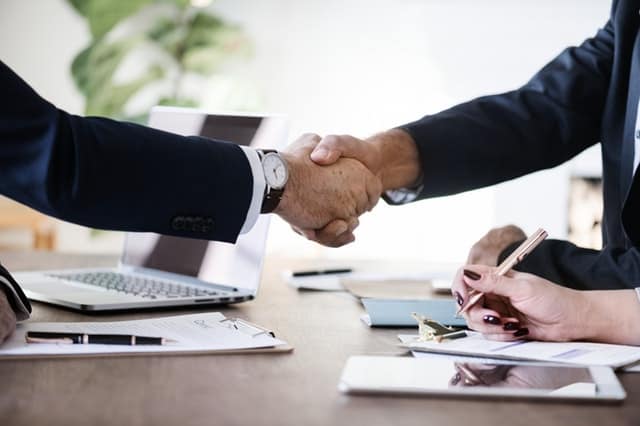 Every guy should wear a watch. For one, it keeps you aware of time. You can simply check your wrist, and there you have it. You know what time it is. For a busy man, keeping track of the time helps you stay on top of your schedule.
Watches also send a statement. It signals style with the benefit of being functional. So a man who wears a watch is not only being stylish but also being smart.
Unlike other accessories, watches are especially versatile. You can have one simple dark leather watch and be able to wear it with different attires—business, casual, formal, you name it. But a metal watch can also be good investment. They're more durable and look infinitely fancier.
For the professional who's always on the go, a smartwatch can be the perfect accessory. It combines different functions of several gadgets. It keeps track of your fitness, plays music, acts as a compass, and displays notifications, among other functions.
Wallet
A good wallet is essential for the professional man. It's where you keep important business cards, credit cards, IDs, and cash. A tastefully designed wallet adds to the whole aura of a chic businessman.
You don't have to get a showy wallet to impress. Send a statement with sleek, durable carbon fiber wallet to complement your office wardrobe. Carbon fiber has a unique finish that's easily distinguished. The lightweight material fits the lifestyle of a businessman who's always on the move.
Caramel Trench Coat
Entering the cool months? A caramel trench coat is ideal for looking rad in the cold weather. It's simple but sophisticated and goes well with most colors. A trench coat can be both casual and formal.
Like other pieces of clothing, fit should be your first consideration when finding the perfect trench coat. It should be able to sit on your shoulders perfectly to create form but is loose enough to wear on top of two to three layers of clothing.
Caramel can come in different shades. Before buying one, try it on under good lighting, and choose the shade the compliments your skin tone (or gives it a healthy glow).
Fun Dress Socks
Unlike other pieces, you don't have to focus much on style for the right socks. Of course, you still have to choose a pair that doesn't horribly clash with your outfit, but other than that, you can have fun with choosing the designs you want.
Wearing fun dress socks may not make you look stylish, but it's guaranteed to make you more happy and confident with your attire. It gives contrast to the sharpness of a three-piece suit, giving it some flavor and excitement. It can also draw people's eyes and be great conversation starters.
Final Word
Clothes do make the man. If you want to be more confident and successful, you have to dress the part. While clothes cannot magically change to become a multimillionaire CEO of a tech company, it will give the boost you need to be more bold and take that one-of-a-kind opportunity that will lead you to the right track.
Moreover, in a sea of suit-clad businessmen, the most sharply dressed individual will always stand out.
Photo URL: https://unsplash.com/photos/NfZiOJzZgcg