Are you going to go deep sea fishing soon? Planning a fishing vacation in the near future?
In this article, we want to present to you some deep sea fishing destinations that you may have overlooked. Maybe you were completely unaware of them for one reason or another, or maybe they were in the back of your mind this whole time, and reading this article will be a bit of a eureka light bulb moment for you. Either way, hopefully this information will help in planning your next deep sea fishing excursion.
North Carolina's Outer Banks, USA:
Everybody talks up a storm (!) about the Florida Keys, and indeed the Keys are undoubtedly a world-class destination for saltwater fishing. But honestly, the Outer Banks are probably even better, just in terms of what is out there to catch. If you haven't had Outer Banks fish grace your palate yet, you owe it to yourself to live the experience. It truly is another dimension in freshness.
Dubai, Unitad Arab Emirates:
This one is surprising for many, because we consider Dubai to be a city of malls and gold-plated automobiles, but the deep sea fishing experience here is not one to be ignored for any serious fishing enthusiast. Especially for a westerner, the exotic (to us) fish to be got in this spot are a prize to our eyes and other of our five senses. Recommended to go in the fall, winter or spring, as Dubai's summers are insanely hot!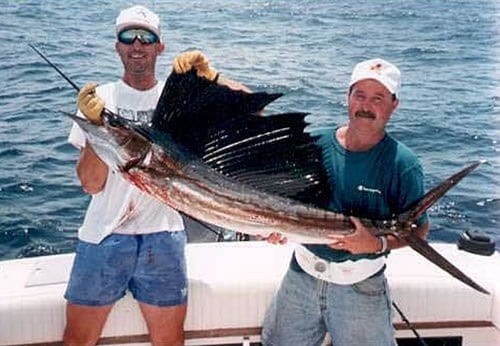 Phuket, Thailand:
This is another destination associated with tourism in general but not so much with deep sea fishing. This is probably at least in part because the deep sea fishing industry here is practically brand new and hasn't had time to properly promote itself yet. But this place is not only naturally incredibly beautiful, it is a treasure trove of tasty exotic species of fish that will awaken your taste buds in truly incredible ways.
Cabo San Lucas, Mexico:
This is a little bit down the list simply because it may be a little more well-known than the others on this list, but it bears mentioning simply because this is probably the best fishing of all in this whole list. It also bears mentioning that the Mexican tourist industry really knows no equal in this planet, and aside from the fishing you will really be amazed at how well set-up tourism is in this country. Be sure to take in the sights, the nightlife, and the beaches as well at this fabulous all-around destination. This would also be a great pick for deep sea fishermen who go on vacation with their family but fish alone. Your family will have such a great time in Cabo San Lucas you may not even be missed! 😉
There are of course many more excellent destinations for deep sea fishing all over the world, and there are new ones opening up all the time, but these destinations listed above should definitely be part of your bucket list if you are planning on doing any serious deep sea fishing in the near future.