Small bathroom design involve making the most use out of the least amount of space. Every square inch in your small bathroom needs to serve a purpose, and in many cases multiple purposes. Here are 7 small bathroom ideas to maximize your small bathroom space.
Ambient Lighting
Lighting is important in every bathroom, but ambient lighting can help to make a small space seem bigger than it is. Install light bars or LED light strips under shelves, above cabinets, and in any space that is obfuscated by darkness or casts a shadow. With properly placed ambient lighting, your small space will look more like a magazine bathroom and less like a medieval dungeon.
Mirrors
Another optical illusion that you can use to your advantage is to use mirrors to create the impression that your small bathroom is actually larger than it is. Add a full-length mirror to the back of your door, and a large statement mirror above your vanity to maximize the effect. You can even add a modern mirror with built-in ambient lighting to double up on the room lengthening effect.
Space-saving Vanity
Ditch your old bulky vanity and replace it with a minimalist modern bathroom vanity. Opt for a wall-mounted model to free up floor space or an angled model that can fit into a corner instead of taking up valuable real estate along your bathroom's wall.
Specialty Fixtures
The most efficient small bathroom ideas make multiple uses of the same fixture. A mirrored medicine cabinet can serve two purposes, including giving you both a vanity mirror as well as functional storage for your toiletries and other bathroom supplies.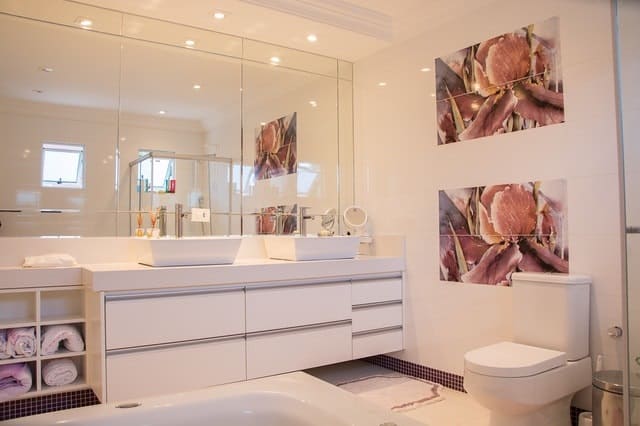 Verticle Shelving
Wall to ceiling shelving is a space saving option that can maximize many small bathrooms by removing bulky bathroom cabinets. Creative types may even be able to install shelving on folding shelf brackets, enabling you to fold the shelves down when not in use.
Plan it Out
When space is at a minimum, you will want to make sure that each fixture in your small bathroom serves a direct and specific purpose. Install towel storage with a built-in towel rack above your toilet and minimal cabinetry.
Add a Freestanding Tub
Freestanding tubs are an effective, and visually dramatic way to save space in a small bathroom. Freestanding and clawfoot tubs are not only classic and elegant but can give you the opportunity to change the overall layout of your bathroom which in itself may yield additional room in an otherwise cramped space.